---
The Advanced Facial Solution for Healthy, Vibrant, Rejuvenated Skin.
WHY SILKPEEL DERMALINFUSION?
---
Get GLOing skin with the SILKPEEL DERMALINFUSION hydrodermabrasion skin treatment at GLO Antiaging. The Dermalinfusion is a patented, non-invasive, 3-in-1 dermatological treatment that simultaneously exfoliates, extracts, and infuses skin with condition-specific serums for an all-inclusive treatment in one step. It is the first and only critically-timed, exfoliation-to-serum treatment technology with optimal-depth delivery for immediate and long-lasting results on all skin types—with no downtime.*
PROFESSIONAL EXFOLIATION TREATMENTS ARE ESSENTIAL FOR HEALTHY GLOING SKIN
---
Professional exfoliation treatments naturally trigger skin's wound-healing phase: a protective process that keeps pathogens out, yet impedes skin's receptiveness to letting restorative serums in. This prevents active ingredients from penetrating beyond the skin's surface where they will have the most impact. Because the window of time to maximize topical serum efficacy is extremely limited, a precision timed-delivery of serum infusion is critical for maximum penetration.
To start your journey to healthy GLOing skin book your Silkpeel Dermalinfusion treatment today by calling GLO Antiaging Treatment Bar in Calgary at 
403-455-0444 or

 
contact us
 

to book a complimentary consultation. GLO provides a variety of medical grade facials in a boutique spa setting. 
ADVANCED MICRODERABRASION OR HYDRODERMABRASION
---
Similar to microdermabrasion, the Silkpeel Dermalinfusion treatment provides non-invasive mechanical exfoliation that removes the outermost layer of dead skin cells from the treated area. However, Silkpeel differs from traditional microdermabrasion treatments by utilizing a patented technology that combines medical grade diamond treatment tips with a pneumatic vacuum to gently exfoliate and extract while infusing condition specific topical solutions into the skin at the same time.
DERMALINFUSION'S customized efficacy lies in its line of specifically formulated Pro-Infusion serums. Each highly-potent serum is the product of advanced research in skincare science, developed for exclusive use with the SilkPeel Dermalinfusion system. The Pro-infused serums contain a variety of vitamins and nutrients. Used used alone or in combination, the serums can be customized to treat individual patient concerns such as hyperpigmentation, acne, photodamage and dehydration.
THE DERMALINFUSION DIFFERENCE
---
By eliminating time gaps between exfoliation and serum application, DERMALINFUSION's patented 3-in-1 technology infuses skin with serums at the moment of exfoliation before the wound-healing phase begins, when skin is most penetrable. Skin experiences maximum penetration of active ingredients at optimal skin depths for enhanced serum absorption and retention receptivity at a deeper level. With Dermalinfusion's distinctive simultaneous 3-in-1 technology, plumpness, volume, hydration, tone and texture are optimized.

Distinctive recessed diamond tip exfoliation removes dry and damaged cells for unparalleled resurfacing and rejuvenation.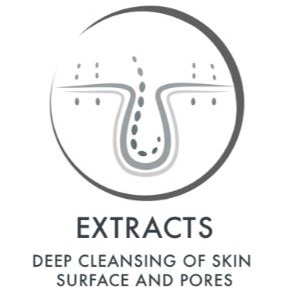 Closed-looped vacuum pressure removes damaging dirt, debris, and bacteria while deeply cleansing.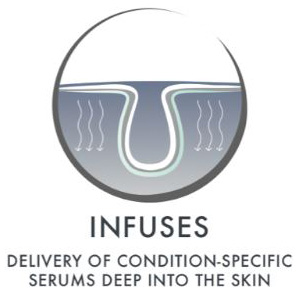 At the exact point of exfoliation and extraction, serums with therapeutic and aesthetic benefits are simultaneously driven deeper into epidermal layers at skin's peak moment of receptivity for enhanced health and visible results.
SAFE FOR EVERY SKIN TYPE, DERMALINFUSION IS FULLY CUSTOMIZABLE AND THE PERFECT SOLUTION TO ADDRESS A WIDE VARIETY OF SKIN CONCERNS AND CONDITIONS INCLUDING:
---
Dull complexion

Skin dehyration and dryness

Sun damage, hyperpigmentation, Post Inflammatory Hyperpigmentation (PIH)

Fine lines and wrinkles on face, neck and décolletage

Acne

Clogged pores and congested skin

Redness and Inflammation

Rough skin texture

Back acne

Extreme dryness and/or cracking on hands and feet

Bumps, dryness, and discoloration on the arms and around elbows
Volumizes skin

Stimulates healthy cell turnover and renewal

Improves radiance and revitalizes dull skin

Refreshes, hydrates and revives tired skin for a youthful boost

Visibly reduces fine lines and wrinkles

Targets client specific concerns for optimal results

Reduces acne, blemishes, blackheads and clogged pores

Evens skin tone and texture
SILKPEEL DERMALINFUSION CLINICAL RESULTS
---