---
Ageless Beauty - Refresh Your Look With BOTOX®, DYSPORT®, And XEOMIN® Neuromodulators
Reduce and prevent the appearance of fine lines and wrinkles, increase volume or improve your skin's tone and texture with one or a combination of GLO Antiaging Treatment Bar and GLO Antiaging Youth Lab's proven injectable treatments. Our Calgary and Kelowna Medispas offer a choice of neuromodulator or dermal filler injections using Botox
®
, Dysport
®
, Xeomin
®
, Juvéderm
®
, Emervel
®
, Restylane
®
, or Teoysal
®
 to help you achieve the rejuvenated look you desire.
BOTOX®, DYSPORT®, AND XEOMIN® REDUCE WRINKLES AND FINE LINES
---
Years of repeated contracting and tightening of the muscles results in wrinkles. But with just a few injections, Dysport
®
, Botox
®
 and Xeomin
®
 neuromodulators, can block the signal from the nerve to the muscles, ultimately resulting in a reduction of muscle activity and temporarily preventing contraction of the muscles that cause lines and wrinkles. Within several days of the treatment a smoothing out of fine lines and wrinkles may be achieved.*
For more information on Botox
®
, Dysport
®
, Xeomin
®
, or Dermal Filler treatments in
Calgary call 403-455-0444
 or in
Kelowna call 
778-484-9999
to schedule a complimentary consultation today. If you would prefer to email please click one of the links below.
ENHANCE YOUR LOOK SO THAT YOU LOOK LIKE YOU; ONLY RESTED AND REFRESHED
---
FDA-cleared and Health Canada approved for cosmetic use, Botox®, Dysport®, and Xeomin® are safe and effective for the temporary smoothing of furrows between the brows, crow's feet and forehead lines. The skilled and experienced Cosmetic Injectors at GLO Antiaging will ensure you get the look you desire – as natural as you want. Safely creating a natural, relaxed and refreshed appearance without anyone noticing you have had anything done is one of our primary goals.*
Botox®, Dysport®, and Xeomin® are derived from a purified protein that when injected into the treatment area, relax the muscles that cause wrinkles, giving your face a more refreshed appearance. Neuromodulators, such as Botox®, Dysport®, and Xeomin® are most commonly used to treat and prevent forehead creases, frown lines, crow's feet and fine lines. Treatments generally take just 10-20 minutes, although treatment times vary from person to person. Treatments should be spaced at least 90 days apart. The benefits may be enjoyed for several months, and the untreated areas will continue to operate normally so your results will look natural.* GLO Antiaging Treatment Bar and GLO Antiaging Youth Lab's experienced Cosmetic Injectors understand the importance of creating safe and effective customized treatment plans that will provide you with natural-looking results you will love.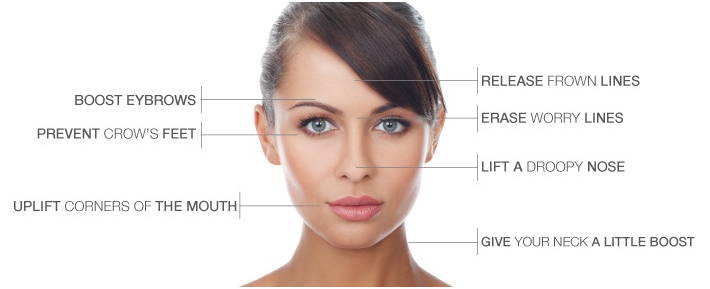 BOTOX
®

: FOR TREATING EXCESSIVE SWEATING
---
Suffering from hyperhidrosis? Don't sweat it!
Hyperhidrosis is excessive, uncontrollable sweating which can effect the underarms, hands and soles of the feet. For people who suffer from this condition, it can be life-altering. There are treatment options available to help decrease and diminish sweat, and Botox is one of the most effective. Botox can be used when other methods to decrease sweating are unsuccessful.*
Botox® is a purified protein that inhibits the release of neurotransmitters responsible for muscle contraction and sweat gland activation. After treatment, a reduction of sweat may occur, providing temporary relief and absence of sweating! Talk to your treatment provider about duration of treatment outcomes.*
This treatment allows you to engage in your daily life, free to throw your hands up without worry. Most insurance plans assist with the cost of medical Botox treatments. We provide an affordable option with a gentle approach, optimizing local skin-numbing methods to make the treatment as comfortable and pain-free as possible.*
BOTOX
®

: MIGRAINE TREATMENT
---
Suffering from hyperhidrosis? Don't sweat it!
Hyperhidrosis is excessive, uncontrollable sweating which can effect the underarms, hands and soles of the feet. For people who suffer from this condition, it can be life-altering. There are treatment options available to help decrease and diminish sweat, and Botox is one of the most effective. Botox can be used when other methods to decrease sweating are unsuccessful.*
Botox® is a purified protein that inhibits the release of neurotransmitters responsible for muscle contraction and sweat gland activation. After treatment, a reduction of sweat may occur, providing temporary relief and absence of sweating! Talk to your treatment provider about duration of treatment outcomes.*
This treatment allows you to engage in your daily life, free to throw your hands up without worry. Most insurance plans assist with the cost of medical Botox treatments. We provide an affordable option with a gentle approach, optimizing local skin-numbing methods to make the treatment as comfortable and pain-free as possible.*
LASER HAIR REMOVAL CLINICAL RESULTS
---
3 Months Post 4 Laser Hair Removal Treatments
Post Treatment Regimen